Solar Choice Solar Power System Payback Calculator
Please beware this is a guide only. Please contact us for a more detailed assessment.
Solar Choice has developed this payback and return on investment (ROI) calculator to help households and businesses throughout Australia make a decision about going solar.
However, it is important to keep in mind that the inputs and outputs below are to be taken as indicative only, and are not intended to take the place of advice from a solar industry professional. 
If you'd like a more detailed assessment of your roof's solar potential fill out our Solar Quote Comparison Request form to initiate a dialogue with accredited solar professionals in our network.
[IMPORTANT]: About using this calculator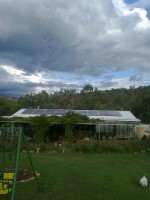 Please remember that results are indicative only. The calculator does not take into account seasonal electricity variations or solar system output, nor does it take into account exactly how your home or business uses electricity throughout the day, the tilt & orientation of your roof, total system efficiency, or whether or not you would have any shading on your panels.
Some notes on using the calculator:
Enter values into the white boxes (only!) 
Use your keyboard arrows to move between boxes. The box you are currently editing will be highlighted.
The output values will change automatically as you enter your details in the white boxes–no need to hit any 'submit' buttons.
If you want to start over for any reason, simply refresh the page.
Play with the numbers
The calculator is also intended to help you determine what size solar system will best suit the needs of your home or business – and what price will make it worthwhile for you. Some of the key variables (white boxes) to consider are: 'Average daily energy usage', 'Solar system out-of-pocket cost', 'Solar system size', and 'Self-consumption ratio'. 
You should also be aware of how much you're paying for grid electricity ('Cost of retail electricity') if you're not sure or are considering switching your electricity retailer or tariff anyhow, visit the federal government's EnergyMadeEasy website to compare rates on offer in your area, or check out Solar Choice's Retail Electricity Plan Comparison Tool .
We recommend that you start by getting a copy of your most recent electricity bill and working out what your average daily electricity usage is (in kilowatt-hours, kWh). If your bill is quarterly or monthly, divide the usage figure by the number of days in the quarter/month, or look for a chart on the back that shows your average daily electricity usage.
Shop around to see what size solar systems are available at what prices. Solar Choice publishes monthly articles about solar system price trends in Australia's major cities–for both commercial and residential solar systems. You can also request a Solar Quote Comparison to get current pricing on solar systems of a range of sizes in your area.
Limiations
This calculator works only for flat-rate tariffs. We are currently looking into building a similar tool for time of use and block tariffs.
At present, the calculator does not account for fixed daily 'supply charges' or electricity retailer discounts (e.g. 'pay on time' and 'direct debit' discounts).
Think outside the box — work on decreasing your electricity consumption before going solar
We have written previously about how to get the most out of a solar PV system. Given the low value of excess/exported solar power in Australia (with rates in most states around 6-8¢/kWh), it is key to make sure that you're consuming as much of the solar power your system produces as possible (read more about 'solar self-consumption'. Consider finding ways to reduce your electricity consumption in the first place to maximise your savings.
Comments or feedback about this calculator?
We'd love to hear from you. Email us at communications@solarchoice.net.au.