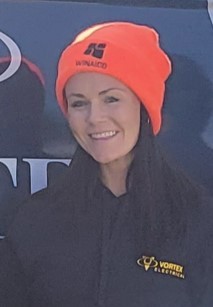 Mandie Nelson
Mandie-Jane (aka 'Manda' or 'Moon')
Mandie is the wonderful better half of The Boss and has a strong environmental and social conscience – making the solar industry the perfect fit. She loves the feel good factor of being able to reduce a customers carbon footprint, save money on power bills and being part of the clean energy movement while supporting the local community.
Mandie is definitely a people person, and loves working with a supportive team and meeting new customers. Cleaning out uneaten lunches from the Boss's van is definitely the down side of the job though.
Mandie and Simon already have a great system on their roof, and Mandie is looking forward to soon adding a Tesla Powerwall.
A whiz in the garden, Mandie's other hobbies include art, travel and taking their dog Indie-Boo surfing. In fact, anywhere outdoors with family and friends is where you can find Mandie usually, unless she's cooking up a Sunday roast.