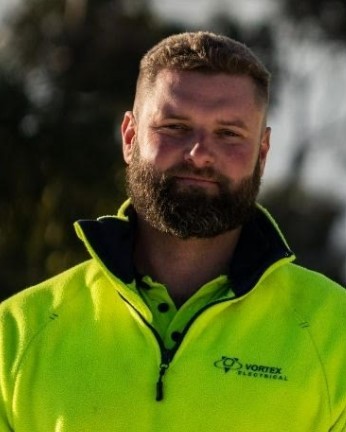 Simon Hansen
Simon Hansen (aka 'The Boss' or 'Simo')
Simon is the boss and business owner of Vortex Electrical. He holds a big toolbox full of various accreditations that allows us to do what we do – he is an A Grade Electrician, CEC Installer and Designer of PV Grid Connect and Battery systems, and accredited in the installation of split systems.
Simon enjoys the diversity of work between solar, electrical and batteries and being able to save the planet 'one panel at a time'. He loves working with a great young and energetic team and being able to perform quality work with quality materials. Smiling, happy customers make the commitment to premium work and finishes all pay off.
Like most of the team, Simon sees the down sides of the job as being really steep roofs, and rainy or really hot days.
If you ask the boss what system he would have on his roof: All black Winaico panels, with Enphase IQ8s (when they are released!), Red Dot all black racking and a couple of Tesla Powerwalls. Of course it's quite possible that Simon will one day live out bush and then you'll find him with a fabulous off-grid system featuring a SP Pro and Powerplus batteries.
In his spare time you will find Simon hanging out with Mandie and family and friends and more than likely, out bush somewhere.